Discover CIMERLI®
An FDA-approved treatment for five retinal conditions1
Understanding your eye condition
If you've been diagnosed with
Wet age-related macular degeneration (wAMD)
Diabetic retinopathy and/or diabetic macular edema (DR, DME)
Myopic choroidal neovascularization (mCNV)
Macular edema following retinal vein occlusion (RVO)
you may be experiencing issues with your vision.
CIMERLI® is a prescription medicine for the treatment of patients with any of the conditions listed above.
Healthy eye
In these conditions, problems with eyesight can occur when:
Abnormal blood vessels grow in a part of the eye known as the retina
Healthy blood vessels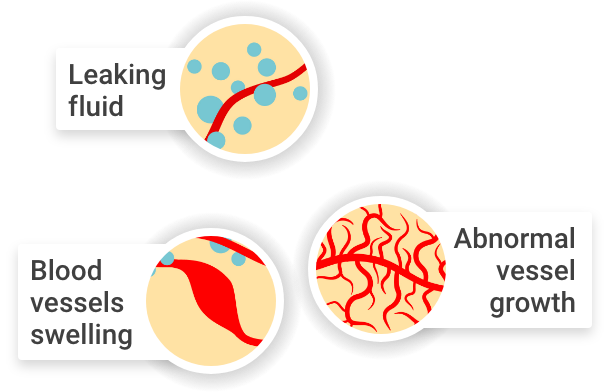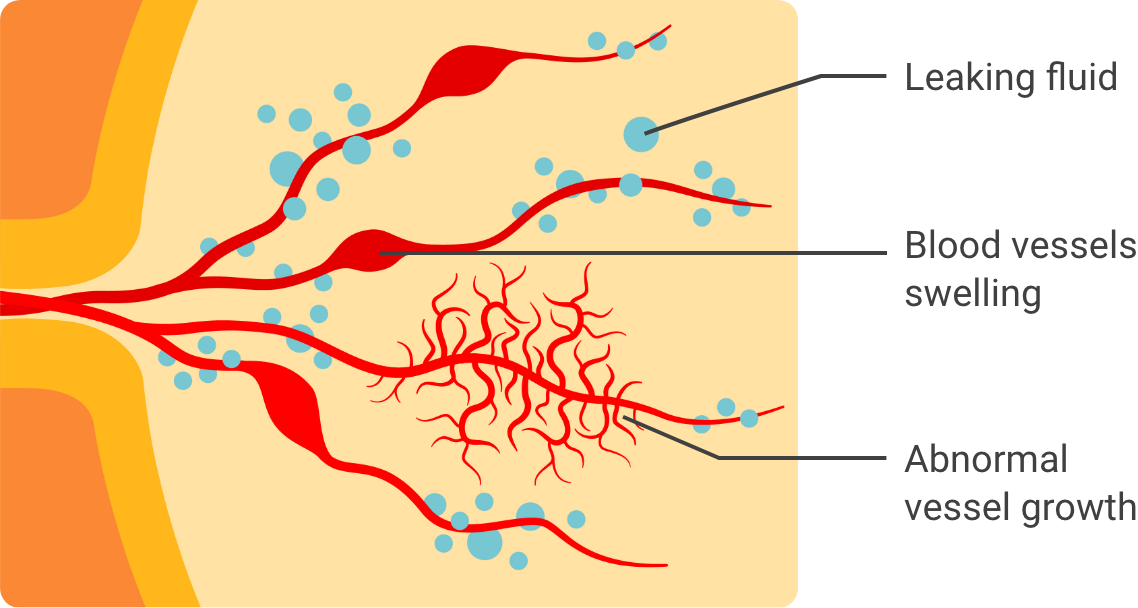 Abnormal blood vessels
View
Labels
Or, when these blood vessels leak fluid into an area of the retina called the macula
Healthy macula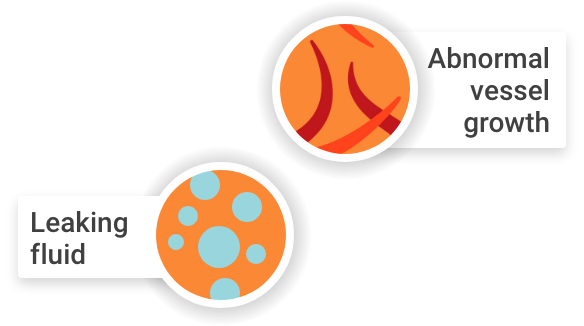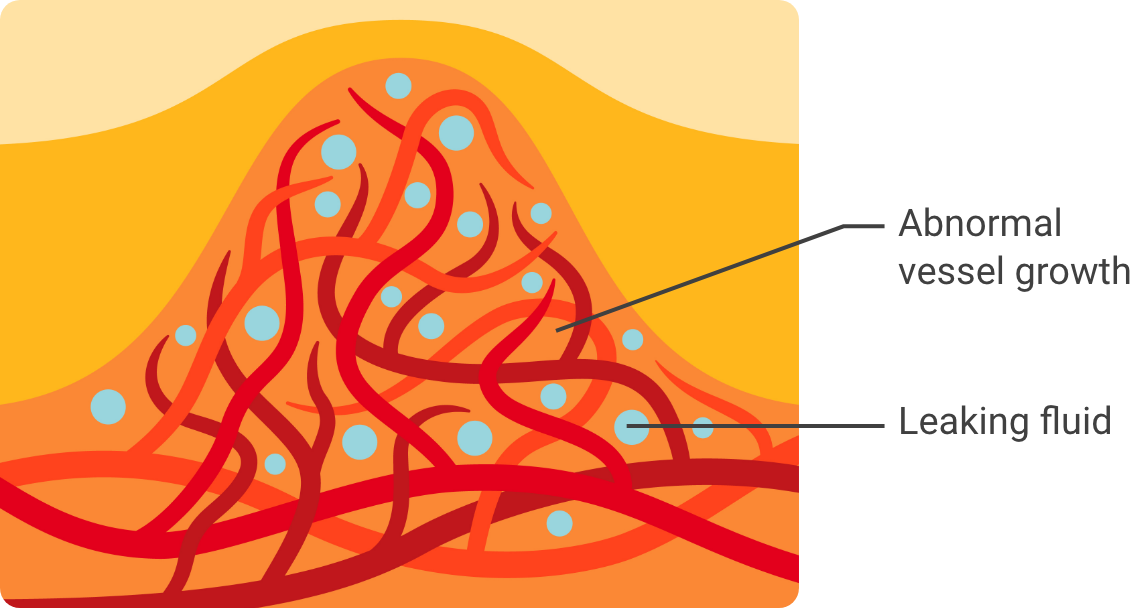 What is CIMERLI®?
CIMERLI® is an
FDA-approved

biosimilar that is interchangeable with Lucentis® (ranibizumab injection)1

CIMERLI® is a biosimilar—a type of biologic medicine that is highly similar to the FDA-approved biologic Lucentis®.1

CIMERLI® can be used to treat the same eye conditions as Lucentis®, and as an interchangeable biosimilar, it is expected to have the same effectiveness and safety, which makes it possible to be directly substituted for Lucentis®.1,2

With no clinically meaningful differences between the two medicines,2 your doctor can choose to start or transition you to CIMERLI® without impacting your treatment.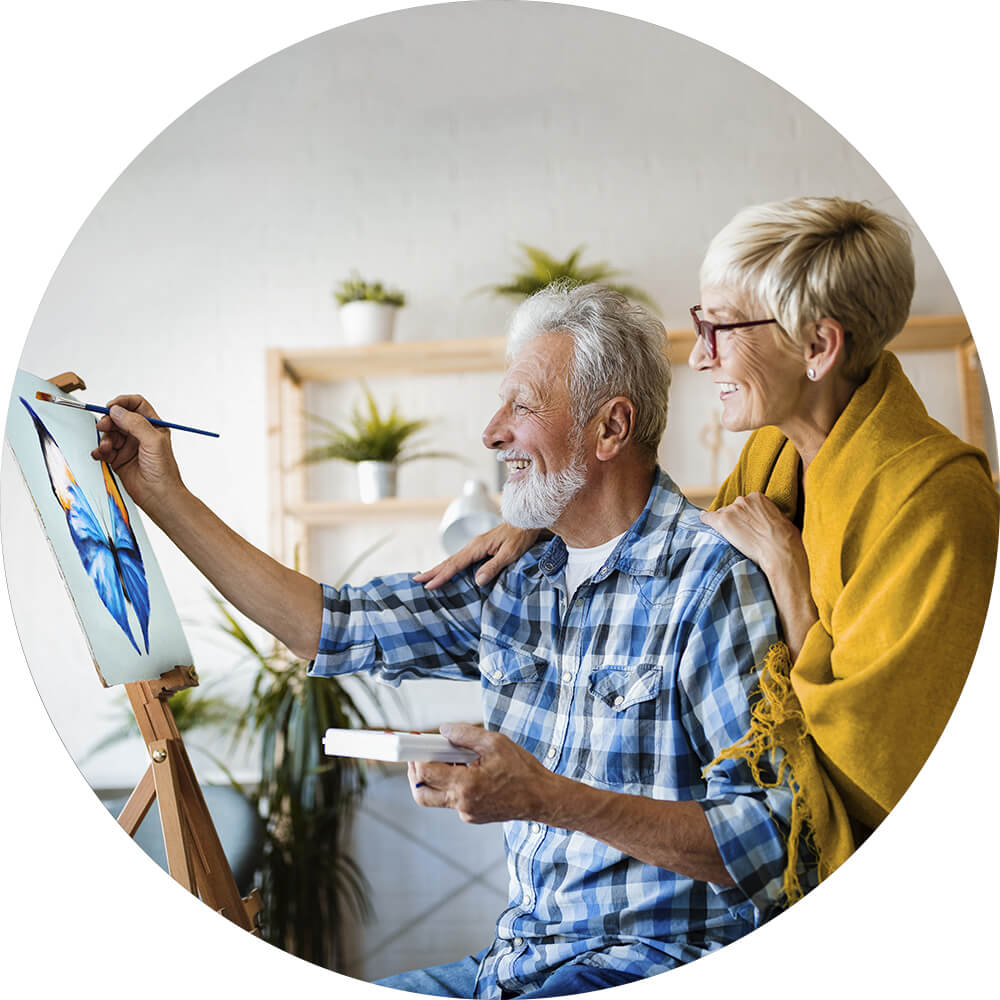 Why are biosimilars important?3,4
Why are biosimilars important?3,4
Biosimilars were established to
Help reduce out-of-pocket & medication costs for patients
Make important treatments accessible to patients who need them
Potentially help reduce healthcare spending
all while maintaining the same quality, safety, and effectiveness of treatment.
What you can expect from CIMERLI®1,2
Your doctor has chosen to start or transition you to CIMERLI®. Here are some things you may find helpful to know:
The same treatment approach
Both treatments are given as injections to the eye and are dosed the same way. Treatment is typically recommended monthly, but your doctor will determine a dosing schedule that is appropriate for you.
The same way of working
Both treatments work the same way in the eye and are expected to produce the same clinical results.
The same effectiveness & safety
CIMERLI® can be substituted for Lucentis without compromising treatment impact or safety. CIMERLI® was carefully reviewed and thoroughly evaluated by a rigorous FDA-approval process, and it is required to meet high FDA standards for consistent manufacturing to ensure medication quality and safety.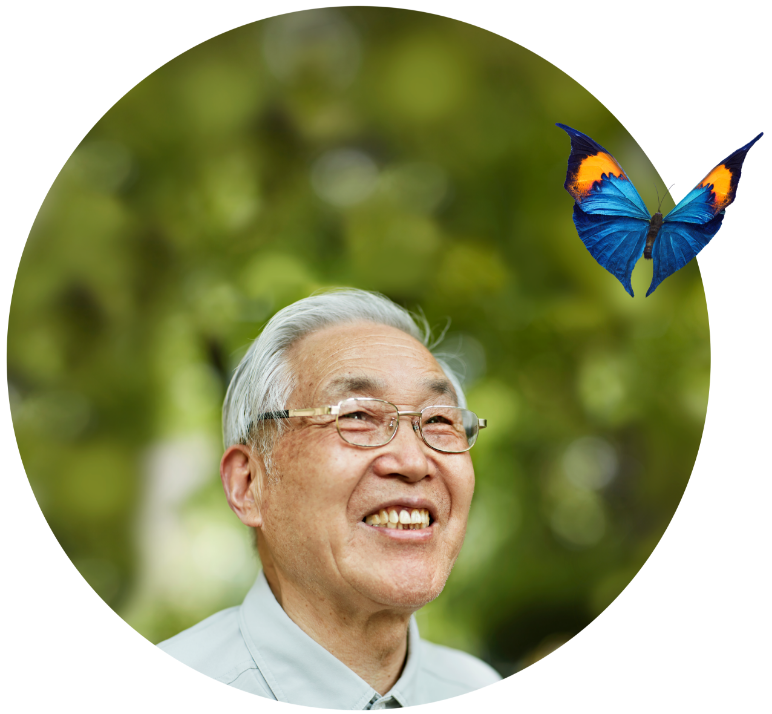 Financial support is available
CIMERLI Solutions™, part of the Coherus Solutions™ family of support services, offers a range of financial assistance programs for patients who are prescribed CIMERLI®.
Co-Pay Savings Program
The Co-Pay Savings Program may cover out-of-pocket expenses associated with CIMERLI® and the injection procedure for eligible patients with commercial insurance*:
per dose of CIMERLI®
with a maximum annual benefit of $15,000 for drug costs per calendar year†
per dose of CIMERLI® with a maximum annual benefit of $15,000 for drug costs per calendar year†
per injection of CIMERLI®
with a maximum annual benefit of $1,000 for drug costs per calendar year†
per injection of CIMERLI® with a maximum annual benefit of $1,000 for drug costs per calendar year†
Enroll in the Co-Pay Program
(opens in a new tab)
*Patient Drug and Injection Co-Pay Eligibility Criteria:
Be prescribed CIMERLI® for a medically appropriate purpose consistent with its FDA-approved labeling within 180 days of program enrollment
Have commercial (private or non-governmental) health insurance that covers the medication costs of CIMERLI®
Over the age of 18 years old and a US resident
For Administration: Not a resident or get treatments in Minnesota, Rhode Island
If a resident of Massachusetts, injection administration may only be paid directly to the patient. Additional information may be required
Not covered by any federal, state, or government-funded healthcare program, such as Medicare, Medicare Advantage, Medicare Part D, Veterans Affairs, Department of Defense, or TRICARE
Not seek reimbursement from any third party, including payers, charitable foundations, or flexible spending accounts (FSAs ) or healthcare savings accounts (HSAs) for all or any part of the benefit received by Coherus through this program
Other restrictions apply, see Terms & Conditions†
It is not valid for cash-paying patients or where prohibited by law
Co-Pay Savings Program subject to change or discontinuation without notice. This is not health insurance
†Terms & Conditions
Coherus's Drug Co-Pay Program and Injection Co-Pay Program are different programs with unique eligibility for each. Patients must enroll separately as needed. To receive co-pay assistance for drug or administration co-pay costs, the provider, patient, or caregiver must enroll eligible individual within 180 days after the date of service for which the subsidy is sought.
Participating patients, pharmacies, physician offices and hospitals may use Coherus' patient services web portal or send completed enrollment forms to 1-877-226-6370 to enroll patients.
Under the CIMERLI® Drug Co-Pay program, if a patient incurs a co-pay obligation for the cost of CIMERLI®, and meets all eligibility requirements, Coherus shall subsidize the cost of drug up to $15,000 per calendar year.
Under the CIMERLI® Injection Co-Pay program, if a patient incurs a co-pay obligation for the administration of CIMERLI®, and meets all eligibility requirements, Coherus shall subsidize the cost of administration up to $1,000 per calendar year.
The program benefits will reset every January 1st. Re-enrollment in the programs is required at regular intervals. Patients may participate in the programs as long as patient re-enrolls as required by Coherus BioSciences and continues to meet all of the eligibility requirements for each program during participation in the programs. After reaching the maximum benefit for either program, the patient will be responsible for all remaining out-of-pocket expenses. The amount of each of the program's benefits cannot exceed the patient's out-of-pocket expenses for the cost of the drug or administration fees associated with CIMERLI®.
The programs are not valid if the costs are eligible to be reimbursed in their entirety by private insurance plans or other programs. The programs are not valid for patients receiving assistance from any other third party, including charitable organizations, if assistance is for the same expenses covered by the programs. The administration assistance cannot be combined with any other rebate, free trial, or similar offer for the medication or administration of the product unless otherwise permitted by Coherus. These programs are not health insurance or a benefit plan.
All participants are responsible for reporting the receipt of all program benefits as required by any insurer or by law. The programs are only valid in the United States and US Territories and otherwise void where prohibited by law, including in Minnesota and Rhode Island. (In Massachusetts special conditions apply.) The injection administration co-pay may only be paid directly to the patient. Additional information may be required to facilitate payment directly to the patient. Program benefits may not be sold, purchased, traded or offered for sale.
The programs do not obligate use of any specific product or provider. Healthcare providers may not advertise or otherwise use the programs as a means of promoting their services or Coherus products to patients. Coherus reserves the right to rescind, revoke, or amend the program without notice at any time.
Coherus's Co-Pay Savings Program covers the cost of medication and administration and does not cover costs associated with the office visit.
Patient Assistance Program
CIMERLI® may be available to you at no cost if you are uninsured, functionally underinsured, or are a Medicare patient experiencing financial hardship.‡
Independent Foundation Support
CIMERLI Solutions™ may be able to help you find financial support through charitable foundations, or you can choose to contact these independent assistance foundations directly.‖
Learn more about support with CIMERLI Solutions™
(opens in a new tab)
‡Patient Assistance Eligibility Criteria:
Patients must be either (a) uninsured; (b) functionally underinsured§; or (c) traditional Medicare FFS insured patient(s) that demonstrate financial hardship and cannot afford their cost‑sharing obligation as evidenced by a signed attestation from their provider.
Additionally, patients must
Have an adjusted annual household income of <500% of Federal Poverty Level (FPL)
Complete and sign consent form and, when applicable, provide income documentation
Be under the care of a US licensed provider, and receive CIMERLI® in an established practice located in the US incident to the prescribing physician's professional services in the outpatient setting
Be a US resident of any US state
Have diagnosis and dosing that are consistent with FDA-approved indication for CIMERLI®
Not have any other financial support options
§To be considered functionally underinsured, the patient does not have coverage for CIMERLI® or any other anti-VEGF or ranibizumab product.
‖Eligibility requirements, type of assistance, and application process varies.
References:
CIMERLI® (ranibizumab-eqrn) prescribing information. Redwood City, CA: Coherus BioSciences, Inc.
Biosimilar and Interchangeable Products. https://www.fda.gov/drugs/biosimilars/biosimilar-and-interchangeable-products#biological. Published October 23, 2017. Accessed on May 19, 2022.
The US Generic & Biosimilar Medicines Savings Report. Accessiblemeds.org. https://accessiblemeds.org/sites/default/files/2021-10/AAM-2021-US-Generic-Biosimilar-Medicines-Savings-Report-web.pdf. Published 2021. Accessed on February 22, 2022.
Makurvet F. Biologics vs. small molecules: Drug costs and patient access. Med Drug Discov. 2021;9:100075. doi:10.1016/j.medidd.2020.100075.